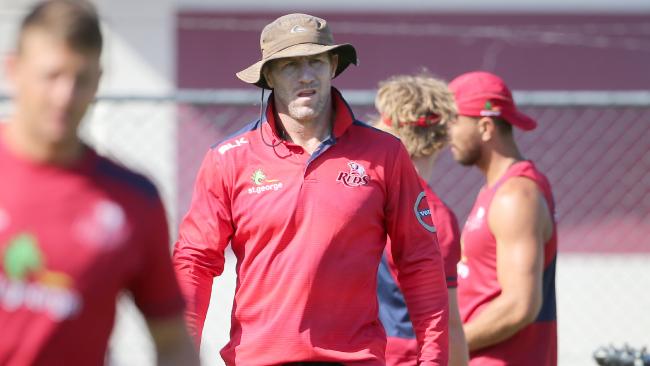 At Ballymore last week, newly-appointed Queensland Reds head coach Brad Thorn was discussing his coaching philosophy, talking decisively about action, improvement and passion and whilst being highly experienced, acknowledging being considered as a rookie coach.
"Taking advice is crucial because I know there are massive gaps but you have your own style too," Thorn said openly of his head coach skills

Regarding having the like of Tony McGahan and Cameron Lillicrap available at Ballymore: "Sometimes coaches will block that out. When I meet people who know more about things than me, I love being around them to learn."

"No.1, is care ... I'm big on caring about, the team caring about each other, caring about the cause they're trying to achieve and they're striving for and big on caring about who you're representing, be it the family or the fans and stuff like that"  Thorn said.

"I'm massive on that, massive on working hard - talent's not enough and having high standards. I talk about striving for excellence with all the teams I'm part of."
In previous sports specific research, Cliff Mallet of University of Queensland explained that "intrinsically motivated behaviors involve genuine interest and enjoyment in pursuing particular activities with natural tendency to seek unique challenges, explore and learn" (Mallett, 2005). Therefore, Thorn's suggested quest to tap into athlete's intrinsic motivation should effectively facilitate development, enhance player's creativity towards learning and pervasively drive the athlete through enjoyment of tasks and challenges, searching for mastery. Thorn and his co-coaches should "agitate over irritate" to challenge players to accomplish something they want to achieve. My current belief that rugby union player development and coaching has become algorithmic as opposed to heuristic. I believe through our (coach's) desire of personal extrinsic motivators (both self-determining and non-self determining), use of extrinsic rewards, controlling feedback, adopted tactics and set instructions for reliably safe outcomes, we are acting against player's inherent tendency to seek out challenges, exercise their capabilities and desire to explore and learn. Thorn's early interviews suggest he is going to tap into different areas of player's motivations.
We understand drive in most sporting participants is found from intrinsic motives; their internal desire to master their sports and challenge themselves through committed engagement in highly repetitive activities. High performance coaching environments such as QLD Reds need to adopt and offer players ingredients for genuine motivation; mastery, autonomy and purpose. These ingredients have been mentioned by Thorn's early interviews and are echoed within research conducted in sports coaching involving study of self-determination theory, which addresses innate psychological needs of autonomy, competence and relatedness. Mallet researched and explained that "self-determination theory underscores the role of environment in fueling people's perceptions of (autonomy, competence and relatedness) in contexts of sport" (Mallett, 2005). Amorose supported that "the more athletes felt autonomous, competent and have sense of relatedness, the more reasons for participating were self-determined in future" (Amorose, 2007).
Richard Barker of QRU came out and stated:
"We feel strongly that Brad Thorn is the right person to lead this change and that his appointment as head coach is the necessary catalyst for that change,"

"Brad has a proven track record of success as both a player and a coach.

"He is without peer when it comes to the culture and professionalism required to be successful at the highest level of our sport and he is enthusiastic about moving the Reds forward and creating a winning culture at Ballymore once again.
High quality coach-athlete relationships and organisational culture, which is optimized by harmonious passion, results in higher subjective well-being within player (Lafrenière, 2008), an area which is critical for high performance environment's development of self-determined motivations and mastery mindset. Stepping into Thorn's shoes and development from master player to master coach, what tactics or techniques can he adopt to his coaching practices? Taking principles from "The Concise Mastery" by Robert Greene,  completing his apprenticeship to master coach could be improved by:
Keep expanding your horizons
Trust the process
Combine the "how" and "what"
Advance through trial and error
Vealey (1986) recognized sports confidence as "belief or degree of certainty individuals possess about their ability to be successful in sport". I believe progression or development of skills to performance adaptation requires character growth, which would enable Thorn to adopt a mastery outlook on his coaching practices, evaluate his performance and areas for improvement made possible from developed confidence. Positive effect and psychological impetus are regarded as drivers for enjoyment, which in turn would offer greater engagement to Thorn's early stages of coaching development.
Brad and his co-coaches need to offer and monitor accountability and feedback of control offered and adopted by players whilst encouraging player autonomy in learning and tasks, as autonomy leads to engagement, which results in drive for mastery and high standards he has mentioned. Players when adopting a Thorn-like mastery mindset shall be driven by constant and consistent desire to improve, focus on learning goals and have incremental theory towards sport specific knowledge and skill level. Players with mastery mindset will find intrinsic motivation and drive for the pursuit. Thorn, McGahan and Mooney can fit into the equation by understanding player's personal strivings, motivations and typical tendencies, subsequently offering consistent, critical yet non-controlling feedback and offer support and praise for effort, strategy and exploration of skills and abilities.
Either way, the buzz and excitement is real and as Brad has mentioned, "I think people have had enough of talk. They just want to see stuff. And that suits me."